Molle Bag - Utility Shoulder Bag - Olive Drab

Sale
Type: MOLLE Bags
Sku: CON-137-001
In Stock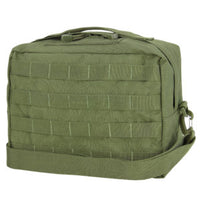 Molle Bag - Utility Shoulder Bag - Olive Drab
$23.95
Looking for the ultimate adventure companion? Look no further than our MOLLE style utility shoulder bag! This bad boy is ready to join you on all your wildest expeditions, whether you're hitting the trails in your Jeep or exploring uncharted territories.
With its sturdy MOLLE construction and ample storage space, this bag is perfect for carrying all your essential gear. Whether you need to pack a map, compass, water bottle, or even a small first aid kit, this bag has you covered.
But it's not just about the usefulness - this bag also boasts a bold and stylish design that's sure to turn heads. It's the perfect accessory for any off-road enthusiast.
So don't wait - add our MOLLE style utility shoulder bag to your collection today and let the adventures begin!
Features:
Zipper closure main compartment
Three internal pockets
Modular attachment straps
MOLLE webbing for modular attachments
Removable shoulder strap 
Overall dimension: 8"H x 12"W x 4.5"D

This handy system, also known as the Modular Lightweight Load-Carrying Equipment, is a military-grade webbing used to attach various pouches and accessories to tactical gear.

But MOLLE isn't just for the military - it's also a popular choice for outdoor enthusiasts and anyone looking to add a bit of rugged functionality to their gear. With its endless customization possibilities and durable construction, it's no wonder MOLLE has become a go-to choice for those who demand the best. So why not give it a try and see what MOLLE can do for you?